For entrepreneurs
We care passionately about German SMEs, and want to achieve success in tandem with you as a business owner or founder. As a business development partner, we invest primarily in dynamic companies. At EMERAM Capital Partners, we focus on growth sectors in which we have relevant experience and suitable expertise so that we can support your company effectively en route to the next development stage and play a key role in enhancing your value. The funds that we advise provide the portfolio companies with capital, networks and expertise in equal measure.
Core sectors
Dynamic future markets
We prefer to invest in companies that take at least one of the following three areas very seriously and have substantial development potential:
Technology / Software
Unique solutions
Value-added Services
Long-term service agreements
New Consumer Staples
Strong customer loyalty
Funds that we advise usually acquire a majority stake. At the same time, we welcome it if the existing management team also invests or the founding team retains a stake in the company. 
Investment criteria
Starting points for a partnership
Your company is of particular interest to us if it meets the following criteria:
Growth market
Active in a growth market, ideally in one of our preferred areas of expertise ( technology/software, value-added services and new consumer staples sectors)
Pioneer
Current or potential holders of a leading market position (possibly also through purchases)
Profitability
Currently profitable with earnings of EUR 3 million to EUR 20 million (or positive "unit economics")
Personalities
Strong management teams with firm growth ambitions
Reasons for investment
Reasons for investment
Our extensive experience enables us to respond flexibly to your transaction request.
We individually gear each equity investment of the funds that we manage towards the respective requirements. As a new shareholder, in our role as a business development partner, we aim to take your company to a new level and increase its competitiveness – ideally in conjunction with you as a co-shareholder. That is why we believe a good sale price is just one of several factors in a successful transaction. 
The EMERAM team has a wealth of experience if you
•    want to finance growth, purchases or internationalisation,
•    are looking for a partner or successor for your family company,
•    are planning a management buy-out or buy-in, or
•    want to structure a change of shareholders.
Successful transactions
Our experience
We have successfully implemented numerous transactions over the past few years
Spin-off from corporations
Full acquisition of companies (as a spin-off from corporations or from business owners) along with involvement of the management team
Management Buy Out
Purchase of companies (100 percent), involvement of the management, and continued involvement of the seller (usually with a stake of 10 to 30 percent)
Succession policy
Succession solutions and replacement of a shareholder
Consolidation & coordination
Majority stakes as the largest yet neutral shareholder in the event of a merger of multiple SMEs
Depending on the requirements and the situation, the funds that we advise provide the companies with equity or convertible loans to finance their expansion (organically or inorganically). In general, we acquire a significant or majority stake in the company. To provide optimum support for our equity investments, we subsequently appoint an active Non-Executive Board with representatives of EMERAM as well as sector and finance experts.
Of course, each transaction must be individually structured. We would be happy to talk you through the right solution for you. In addition, we can put you in touch with business owners or managing directors who have worked with us on a similar basis.
Business development partner
We firmly believe that partnership-based collaboration is the ideal foundation for achieving optimum results together. That is why we actively assist the portfolio companies of the funds that we advise as a business development partner. In this role, we see ourselves as an outsourced business development unit that provides a variety of services for SMEs in the EMERAM portfolio. We bring our extensive experience in business development to the table here. 
The services we provide as a business development partner cover the following aspects: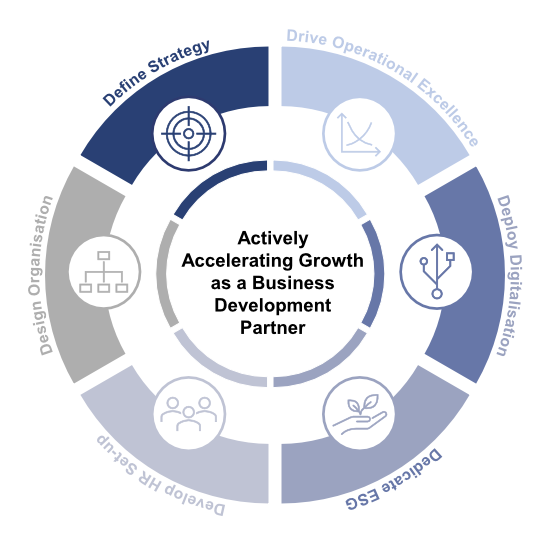 We help the portfolio companies to conduct a strategic review, and develop a new or optimised strategy with clearly defined, quantifiable targets if required. We actively assist with significant steps such as follow-on acquisitions, entry into new business areas and internationalisation. And we give the portfolio companies the benefit of our experience and our network when it comes to boosting their competitiveness or stepping up their penetration of certain markets.
We pursue ambitious growth targets in tandem with the portfolio companies of the fund. To this end, we aim to continuously enhance and professionalise the value chain (including the support functions), while rigorously gearing a company's entire organisation towards the strategy. Through our in-house expertise and with our strong network of partners, we work with the management team to drive this organisational development forwards. In addition, we help to identify synergies within the portfolio (e.g. in purchasing), and encourage improved project management. Furthermore, at many portfolio companies, we establish an active Non-Executive-Board that assists the management team.
We believe that the employees at our portfolio companies are crucial to future success. That is why we provide our portfolio companies with support on specific HR aspects from the outset, in particular recruitment and managerial development. After all, having the right management team at our portfolio companies and preparing for the challenges that lie ahead are essential to our approach. In addition, we help the HR departments to keep on growing more professional in order to support the company's strategy as effectively as possible and to ensure long-term loyalty of employees. Ultimately, our established HR reporting helps the portfolio companies to attain the requisite transparency regarding staffing and personnel development.
An efficient Finance department is central to transparent performance monitoring. At EMERAM, we see ourselves as a sparring partner for the operational excellence: we assist with development and digitalisation of important and meaningful reporting formats and the creation of an efficient control system to enable fact-based decision-making and stringent tracking of measures.
Whatever the sector, digital transformation accelerates change at companies exponentially. We see this as an essential driver of value creation and an opportunity that delivers long-term competitive advantages. With this in mind, we assist the portfolio companies with digitalisation of business models as well as automation of processes, transactional relationships, products and services, and the digital workplace.
Sustainable management (ESG) is an integral part of our EMERAM strategy, both in the assessment of investment opportunities and in our day-to-day work with our portfolio companies. We measure progress across the entire portfolio on the basis of ESG benchmarks. In addition, we work with the respective management team to explicitly integrate specifically environmental added value into the corporate strategy and to ensure that the portfolio companies operate sustainably.
As part of our sustainability management, we have signed the United Nations Principles for Responsible Investment (UN PRI).
Network
Expertise and contacts
As your business development partner, we secure the company's financing and provide you with extensive expertise for future operational and strategic development. To deliver this, we work closely with experts within our network whose skills also benefit our portfolio companies. 
These experts mainly operate in the technology/software, value-added services and new consumer staples sectors. By focusing on these dynamic markets, we are continuously expanding our industry network. Furthermore, we can turn to a host of partners with experience in the SME segment who have repeatedly achieved outstanding results for our portfolio companies in areas such as organisational, strategic and HR development. We also engage our long-standing industry contacts in specific growth initiatives and acquisitions as well as procurement and sales activities. 
Our network comprises several dozen partner companies with a combined total of over 500 experts who have all worked with us successfully in the past. Like a large family, we move the company forwards together and achieve our goals.